All at Sea

Britain's Favourite Boating and Watersports Show Returns with a Splash
Tuesday, 14 September 2021
Britain's Favourite Boating and Watersports Show Returns with a Splash
The much-anticipated return of Britain's biggest boating and watersports show has already made a big splash during a very successful first weekend. Opened by members of the British Olympic Sailing Team and Ian Cooke, President of British Marine, visitors were queuing at the new entrance at Westquay, eager to explore the new show format.
It was a real privilege to welcome the British Sailing Team to the new Dinghy zone where Olympic enthusiasts could chat with them, ask questions about the games, see their boats on display, check out their medals and have their photo taken with them.
The new and improved layout of the 52nd edition of the show has been extremely well-received including the 5 new zones; Watersports, Dinghy, Classic & Day Boat along with On The Water  and Festival Green with the latter perfect for relaxing and soaking up the atmosphere.
President of British Marine, Ian Cooke said: "We have received fantastic feedback from visitors and exhibitors regarding the new layout of the event and everyone is hugely excited to be back. I am extremely proud to be a part of this and look forward to building on it for next year."
Visitors have been enjoying an exciting programme of inspiring talks and presentations from guest speakers on the Foredeck Stage from foiling tips to tales of ocean races, from sustainability to advice on how to build your own boat. There is also an important focus on getting people afloat and whether visitors are new to watersports or are seasoned sailors, there are free opportunities to sail a dinghy, try a kayak, paddleboard, enjoy a thrilling RIB ride, jump on board a motor boat with Try-a-Boat or for a small fee sail on a tall ship with Try-a-Boat+ *. Over the first three days of the opening weekend, nearly 2,000 visitors got out on the water.
Exhibitor stands have been incredibly busy and there have been queues of boat enthusiasts waiting to take a look inside the hundreds of sailing yachts and motor boats on display in the marina. From sailing dinghies to classic boats, sports boats to motor yachts, there are over 300 boats on the marina and a further 200 on land to explore – something for everyone!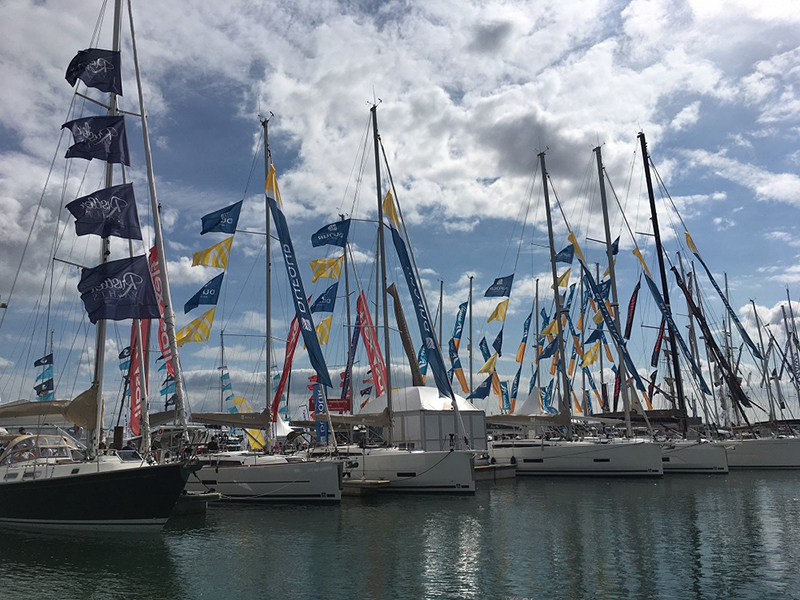 Quotes:
James Brooke, Director, Extreme Marine / Fliteboard UK: "This is the first time we have exhibited at the show and the interest and feedback from everyone, even seasoned sailors, has been incredible. It is still a relatively new product but it is selling well from our stand, next year we will stock five times the number of boards as we have sold 80 per cent of the boards here already! Our two pro riders, Glyn Ovens and Tom Court, have been out on the water showcasing the Fliteboards inspiring all of us to get out there and try it, whilst giving technical support and information at the stand."
Rick Reading, Sales Director, Topper: "I am loving the new Dinghy zone and we have had excellent feedback so far from our customers and very good boat sales."
Sharon Geary Harwood, Owner and MD, Drascombe by Churchouse Boat: "It is lovely to be back and see people face to face, and we are having some really interesting conversations. We love the new layout – it works really well."
Lizzie Mitchell, Senior PR, Premier Marinas: It is great to be back at the show and engaging with new and existing customers on a one-to-one basis and it is a great atmosphere. The acquisition of Universal Marina means we now have a portfolio of 10 marinas on the South Coast to showcase."
Dominic Zammit, Director, Boatfolk: "This is our first year showing as the rebranded Boatfolk. It is great to be back, we are very busy and there is a very positive vibe at the show. We have launched Boatgen which includes the Andrew Simpson Foundation, providing opportunities for young people to find their pathway in sailing. On our stage panel we had, Eilidh McIntyre – Team GB Olympic gold medallist, Tim Long – Boatgen ambassador and last year became the youngest person to solo sail around the UK, Richard Percy – CEO Andrew Simpson Foundation and Ellie Gennings – Lecturer in Sports Coaching at Bournemouth University.'
Roger Lipman, Sales Director, Princess Motor Yacht Sales: "We are really happy to be here in Southampton's Mayflower Park for the return of the show. The market remains buoyant, and we have a fantastic display of yachts on the marina."
Sean Robertson, Sales Director, Sunseeker: "We have had an excellent start, we are speaking to the right people, great clients and its very positive. The new layout is better, and the new VIP entrance and parking works exceptionally well. There is good interaction and positive sales across all sizes of our yacht range up to and including 88ft and 100ft."
Will Blair, Group Marketing Director, Ancasta Group: "The reaction to the Sanlorenzo SX88 has been phenomenal. Visitors asking why the brand has not been at the show before, how the lines and design are like nothing else on display and the quality and finish is a level above what they currently own or have experienced with other brands. Really positive and refreshing to hear. Some very, very positive conversations being had over the first couple of days. We have taken deposits on Beneteau and Lagoon."
Luke Morrison, Managing Director, Rooster: "Customers are loving being back at a boat show again and from Rooster's perspective, it is great to bring our diverse product range to the public face-to-face after all this time. The extra bonus is that sales are far exceeding expectations so we could not be happier!"
Alasdair Marshall, SE Yachts: "We are pleased to see good footfall at the 2021 show, and we are delighted to have some serious buyers. Buying a new build yacht, especially an Arcona, is a significant investment. We are happy to be able to meet people again at the Southampton International Boat Show and to be able to show them, in real life, the benefits of choosing an Arcona.'
Dave Copley, Managing Director, Boatworld: "We have had the best start to a show that we can remember. We have sold more Boatworld inflatable boats and Orca outboards in the first three days compared to the whole of the last show…. very impressed."
Tina Poulson, Sargo Boats UK/Marco Marine Hamble: "We have had an amazing first two days – sales agreed on 104 feet of Sargo! A 28, a 31 and the brand new Sargo 45. So many visitors commenting on how great it is to be back at an event."
Tony Jones, Owner, The SUP Company: "As the world has embraced Stand Up Paddleboarding, so has Southampton International Boat Show. The SUP Company has had great success within the all new watersports zone exhibiting on stands W007 as The SUP Company and W037 as Jobe Sports. We have experienced huge interest and a lot of sales on both stands as we help people get kitted out to go afloat for the first time as well as assisting experienced paddlers looking for their next board."
Matt Ovenden, CEO & Founder, Borrow A Boat: "We had a fantastic first Saturday at the Southampton International Boat Show this year, with the footfall and engagement from customers far exceeding our expectations and making it the best single day we have ever had at the show for pure volume of sales and new customer requests. It is so encouraging for the industry and for inspiring travel confidence for next year to see the show back and the visitor numbers strong."
Green initiatives
Building on existing environmental initiatives, the Southampton International Boat Show, had asked exhibitors to commit to an environmental pledge that helped the 2019 show divert over 7.5tons of waste from landfills. This includes a ban on all plastic straws, reduced use of single plastic and the use of e-tickets and QR codes.
British Marine hosted the Exhibitor Environmental Awards to further strengthen the show's sustainability pledge and encourage exhibitors to take part. Mike Golding presented awards to joint winners Premier Marinas and Bentley Motors in recognition of going above and beyond to reduce their environmental impact and introduce sustainable working practices.
Boating is stronger than ever
Whilst the pandemic saw a pause of the show, the leisure marine industry is recovering well and has benefited from the great British staycation with British Marine's latest boat sales statistics providing strong evidence of this recovery. Sales in the first half of 2021 are a fifth (21 per cent) higher than pre-Covid sales in 2019. This recovery is set to continue with nearly 80 per cent of members of British Marine confident in their business's current prospects, reflecting the strength of this recovery.
---
For further information about the show visit: southamptonboatshow.com
For tickets please visit: https://boatshow.seetickets.com/content/ticket-options
Keep up with the latest news and announcements via Southampton International Boat Show's social media channels on: Twitter, Facebook and Instagram
The post Britain's Favourite Boating and Watersports Show Returns with a Splash appeared first on All At Sea.
This article was first posted on All at Sea, you can
read it here
.