Boatshed
Dorset marine tech founder named 'Entrepreneur of the Year'
Thursday, 24 November 2022
Dorset marine tech founder named 'Entrepreneur of the Year'
Jelte Liebrand, founder of marine technology company Savvy Navvy, has been recognised as 'Scale-Up Entrepreneur of the Year' at the Great British Entrepreneur Awards 2022.
Jelte Liebrand, who is from Poole, founded and developed Savvy Navvy, an all-in-one app aiming to simplify boating navigation.
The Dorset entrepreneur took to the stage at the tenth edition of the Great British Entrepreneur Awards 2022 ceremony at Grosvenor House in London as a winner in one of twelve categories from the South West, selected out of over 5,300 award entrants from all over the UK.
"It was such a surprise to win [the award] out of so many amazing business leaders across the country," says Liebrand. "Standing on stage at the awards ceremony in front of 1,400 people, I felt especially proud being one of the only entrepreneurs flying the flag for the marine industry."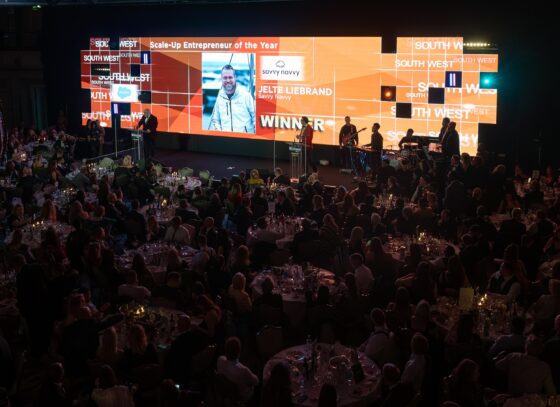 Liebrand collects his award at London's Grosvenor House
Referring to itself as 'Google maps for boats', the app has this year almost doubled its users in more than 100 countries around the world. Earlier this year, it teamed up with weather intelligence company Meteomatics to provide app users with smarter weather solutions adapted to their location.
"Over the past five years, we have worked hard to constantly develop our app with unique and user-friendly features based on feedback from users to fulfil our vision to get more people out on the water," Liebrand continues. "We now have a team of 14 employees, our turnover has more than doubled this year and the number of users of the Savvy Navvy app continues to rapidly grow globally. So, the scale-up category felt like a very suitable award to end a great 2022."
This year Savvy Navvy has gone beyond boating, adding functionalities for paddleboarders, kayakers and jet skiers. Users have plotted more than 46 million miles of routes in the app this season alone.
The Savvy Navvy interface
"Savvy Navvy is an innovative and dynamic business which is growing and has a global presence. The business brings an excellent solution to a clear problem," says Ying Tan, non-executive Chairman of Knowledge Bank and one of the Great British Entrepreneur Award 2022 judges.
Winners from all regions across the UK were acknowledged at the ceremony on Monday (21 November 2022) with the overall Great British Entrepreneur of the Year Award, being won by the co-founder of Jordan Brompton.
This article was first posted on Marine Industry News, you can
read it here
.