All at Sea

From 'Sofa to Sailboat'
Monday, 05 June 2023
From 'Sofa to Sailboat'
Forget about 'Couch to 5K'; a leisure sailor and his inexperienced ex-Team GB crewmate are moving from their sofas onto a tiny 17ft sailboat to cross the Atlantic Ocean in aid of charity.
In December 2023, John-Kenneth D Habbershaw and crewmate Farris Collins will take on an incredible challenge as they cross 3000 miles of the Atlantic Ocean, unassisted in a tiny upcycled 50-year-old 'Leisure 17' sailboat, which has been nicknamed their 'dinghy with a lid'. The pair aim to raise £100,000 in aid of Macmillan Cancer Support, Mind, MS-UK, and St Helena Hospice.
The skipper, John-Kenneth D Habbershaw (40), a Marine Surveyor/Electrician, is a leisure sailor of thirteen years; he has honed his skills on the North Sea and East Coast. In addition, he'll use the technical knowledge he's gained during nine years as a consultant for record-breaking world Atlantic and Pacific Ocean Rowing teams. John-Kenneth was previously a volunteer in the Blue Light Emergency Services until his health led to his retirement from that role.
Joining him as First Mate is Farris Collins (25), an ex-Team-GB four times gold medal Commonwealth, and a bronze medal World Championship Powerlifter. Farris is completely inexperienced when it comes to sailing but is no stranger to pushing himself to the limit. He draws on his experience on various fundraising expeditions, including climbing Kilimanjaro and Mt Toubkal and completing a half marathon.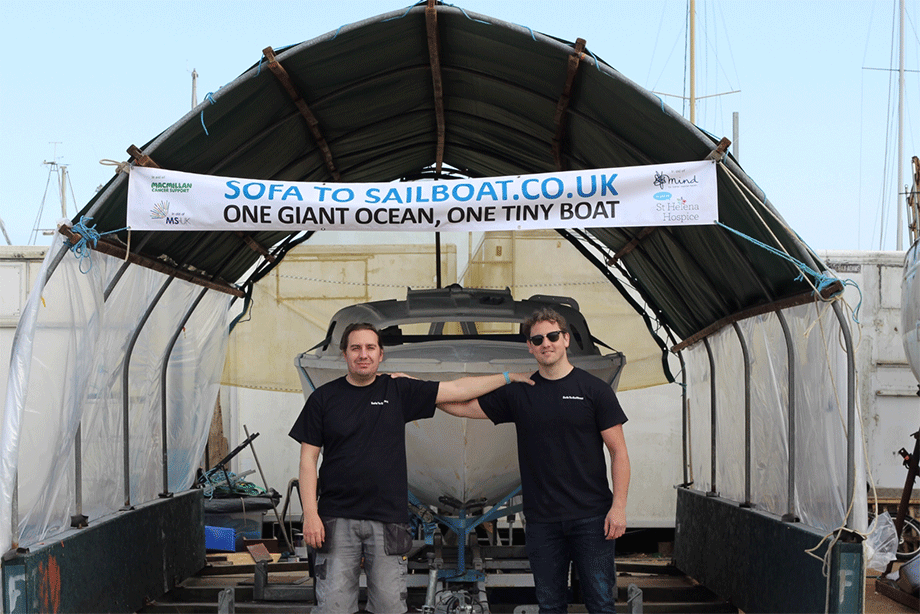 Farris said: "I have never sailed before, so this will be a massive challenge for me. But I am determined to give it my all, and I am confident we can make it across. We would like to thank everyone who has supported us so far, and we hope that people will continue to donate to our fundraising page."
Their journey will take approximately six weeks and cover a distance of over 3000 miles from the Canary Islands to the Caribbean. The brave duo will face numerous challenges, including unpredictable weather, rough seas, and isolation. The upcycled boat is being specially modified for the ocean crossing; it will also use some of the latest marine technologies and renewable energy equipment to make the expedition as safe as possible and without reliance on fossil fuels. The project follows advice from 'The Green Blue', an RYA/British Marine joint environmental program.
---
The team be sharing updates and photos of their journey on social media, and people can follow their progress and make donations via their fundraising page: https://www.sofatosailboat.co.uk
Sofa To Sailboat is also seeking corporate sponsor support: https://www.sofatosailboat.co.uk/sponsor-information
The post From 'Sofa to Sailboat' appeared first on All At Sea.
This article was first posted on All at Sea, you can
read it here
.